Treasure Island Report
Jump to navigation
Jump to search
The Treasure Island Report (TIR) was a monthly newspaper that first was independent and later organised by the Ministry of Media, focusing on promoting roleplay events in The South Pacific. The first edition, written by Kris Kringle, was published on 19 June 2015. Since then various editors-in-chief were in charge of the newspaper for different periods of time. The last editor-in-chief is GI-Land, who took over the task from Seraph in August 2020.
The name originates from the Treasure Island subforum on the regional forum.
The final edition of the Treasure Island Report was published on 8 September 2021, after which there was no one to supersede the outgoing editor-in-chief.
History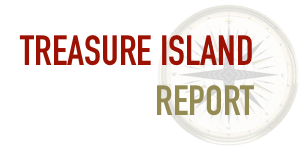 Organisation
Contents
The Treasure Island Report existed on the base of submissions by the roleplaying community, which were asked for by the editor-in-chief on a monthly basis. Those submissions ranged from being newspaper articles, which were either submitted via private message to the editor-in-chief or are republished from an in-character newspaper, to in-character interviews and actual copies of roleplay posts, to gear the attention to a certain roleplay, to short stories, which existed especially during the times of editor Kris Kringle.
Since the ninth issue those submissions were accompanied by an out-of-character text written by the editor-in-chief. Hereby the OOC-section always either provided an overview about recent roleplay-events or were a comment on typical experiences and problems connected to roleplay in The South Pacific.
Editorial
Since the start of the newspaper in 2015, there were five editors-in-chief responsible for the TIR either independently, under the Ministry of Regional Affairs or, from 2020 onward, under the Ministry of Media. The editor change was often necessary since the Treasure Island Report was subject to multiple restarts.
Editor-in-chief
Issues
Time
Average readership
June 2020
Kris Kringle
1 - 8
June - November 2015
592
Seraph
9 - 12
14 - 19
27
August - November 2016
January - August 2017
July 2020
584
Qwert
13
20 - 24
December 2016
March - October 2018
518
Jay Coop
25 - 26
December 2019 - January 2020
284
GI-Land
28 - 36
August 2020 - September 2021
101